The First Edition of SDG Youth Forum Magazine "SDG: The Voice of the Globe" has been Published
SDG Youth Forum, a youth-led organization that advocates and promotes 17 goals of Sustainable Development Goals (SDG). The organization has published an E-magazine recently. On 17th May SDGYF uncovered their first E-magazine "SDG: The voice of the Globe" to disseminate knowledge and information on SDG. The magazine is equipped with 11 articles, 8 poems, 1 Urdu article, 1 Nepali writing, Review, Artwork, and so forth. The writers are from various regions of the world including Asia, Africa, and Latin America. The articles covered a wide range of issues like Culture, Environment, Health, Contemporary issues, etc.
The article exploring the Culture of Pakistan describes the importance of their cultural and archaeological spots. It also demonstrates the hospitability of local people to the tourist. The environmental section picked the issue of Plastic in the Ocean which has created difficultly in the life of animals. Thousands of plastic bags, bottle and deteriorates the balance of the marine ecosystem. The unprecedented situations of Covid-19 are discussed in the article "Coronavirus: All you want to realize about its signs and chance". The political scenario and miseries of Kashmiri people have been directed in the article "Verity from Shackles" section. The writer analyzed Kashmir and Jammu's issue with an insightful and critical point of view. All the article has a readworthy tune with related pictures and infographics.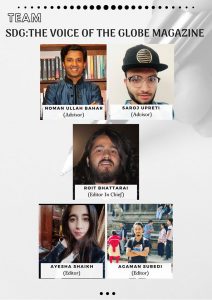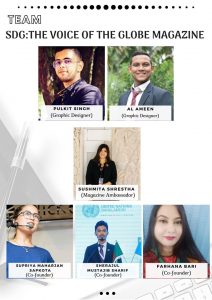 President of SDG Youth Forum Mr. Noman Ullah Bahar expresses that, he is pretty glad to share their first Edition of magazine "SDG: The Voice of the Globe" from the family of SDGYF. He'd like to express his heartfelt gratitude for the tireless efforts of the dedicated and inspiring team of SDG Youth Forum & the writers, wishers who share their writings. They owe a debt of gratitude to all creative writers from around the globe. They are the creators of their wonderfully crafted articles with the artistic flow of words.
Riot Bhattarai, Editor In Chief of the magazine says that the editorial board is Glad to release the first edition online magazine "SDG: The Voice of the Globe" on 17th May 2020. The contribution and dedication of faculty members, students and are continuously helping the magazine in a stepwise manner for achieving a new milestone. The magazine provides a perfect platform to highlight the literary and artistic segments of Sustainable Development Goals. They are very thankful for all the populace & wishers from the Globe who supported them writing articles.