Kashmir and India-Pakistan relation
Kashmir had been "Apple of Discord" between India and Pakistan since 1947 when both countries got independence from Britain. It has became one of  the long lasting disputes in history which hasn't resolved yet. It was the partition of Indian sub continent on the basis of religion. The scenario was messed after World War II for British Empire.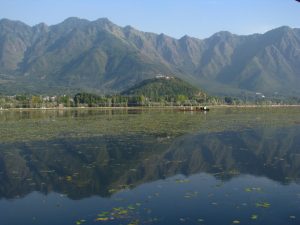 Kashmir is the northernmost geographical region of South Asia. it denotes a larger area that includes the Indian-administered territory of Jammu and Kashmir (subdivided into Jammu, Kashmir, and Ladakh divisions), Pakistani-administered territories of Azad Kashmir and GIlgit-Baltistan, and Chinese-administered territories of Aksai-Chin and the Trans Karakoram Track. videos on Kashmir
It was an extreme dilemma for policy maker during the conclusion of British Empire that where should Kashmir join, Union of India or Dominion of Pakistan. Because of its location it could choose any of them. But it became problematic when Maharaja Hari Singh, the ruler of Kashmir, was Hindu while most of his subjects were Muslim.
Firstly Maharaja Hari Singh tried to stand neutral as his intention was to have independent Kashmir. But situation became complex when Pakistan pressurized Hari Singh with tribal guerrilla. But he signed at the paper of accession ceding it to India and fled there. The cunning Hari Singh made a black fortune on the forehead of people of Kashmir. Since then the princely Kashmir has became another furnace in the world. The air of Kashmir floods with children's wailing. Once, it was regarded as heaven of the earth.
Though both India and Pakistan conceded to have a plebiscite in Kashmir to decide where it should join but it haven't happened yet. Moreover India and Pakistan fought with each other over Pakistan in 1965 and 1999. Lots of civilian people lost their life in no means. Situation has been degraded again recently. Leader of both part have left their speech blaming each other. News papers are covering news having pictures where we see the low enforcing agencies are aggrieved with heavy arm on civilians. No doubt it will cost flood of blood again on civilians. In a report by Nobel laureate organization International Physician for the Prevention of Nuclear War and Physician for the Social Responsibility described that it will cost more than 200 million people if India Pakistan fight again. Human rights are being violated everyday, summery execution, rape, torture is happening. A report by International People's Tribunal on Human Rights and Justice revealed a report of having data from 1990 to 2014.
Moreover if you see recent news you may hurt seeing devastating consequence of using pellets. More than 400 people in disputing area having injury by pellets within last month. The news came to the public conscious in an appeal to Jammu and Kashmir High Court seeking ban of this weapon. Indian paramilitary force confessed using 1.7 million pellets at protesters. 66 people have been killed and more than 6000 people injured already since the killing of Burhan Wani, an activist of Pakistan-baked militant Hizbul Mujahideen in 10th July 2016.
It has long time since both India and Pakistan experienced in regional and world politics. Kashmir is not in so far internal than bilateral. The fact is both political parties don't want to insecure their political interest having liberal stand. Even they want to cherish the clash. But the status quo won't remain same every day. India and Pakistan can take lesson from First World War. If they really want to save the people from devastating evil days they must talk each other renouncing disbelieve and suspicious mind. They have to realize peaceful environment is more essential than narrow internal political interest. Peace is easier than political hegemony.
Sharif Mustajib
Student, International Relations
University of Chittagong.
.